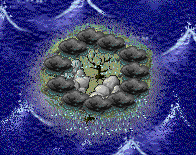 Dal'Noth Island lies somewhere in the sea north of Puddleby, although its exact location remains unknown. Puddlebians discovered the island more than 20 years ago, in the summer of 535, and it remains a popular hunting ground to this day. Powerful illusions bar entry to the island, and only a trained Mystic can break them.
Mysterious cloaked beings known as 'Noths live on the island, along with strange fungi, which are collectively referred to as 'Dews. According to Qual, the inhabitants of Dal'Noth originally resembled exiles, but a disease known as the Dark Bubbling infected them and turned them violent.
An enigmatic and reclusive wizard known as Votenkath is rumored to still live on Dal'Noth, in the castle north of Dal'Noth Village. The Dark Bubbling, also, may still reside on the island, hidden amongst the caves deep below the surface.
---
Related Links: