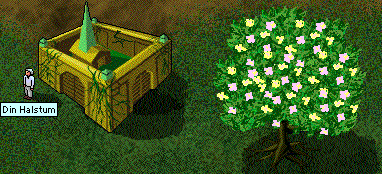 A building of gold, vine-covered walls in Town Center, the Healer Temple is a place of peace, fountains, libraries, and aquamarine floors. The entry vestibule is staffed by Master Hekus and the doorman, Reck Sinto.
The west wing of the temple is open to the public, and includes a small library as well as Hekus' office. Beneath the west temple is the Ossuary. A small zoo is open to the public, as well as a basement in which Cear'vae? conducts his experiments on substance reaction in the local fauna.
The halls beyond Reck Sinto represent the bulk of the temple. They are populated by a number of trainers in the healing arts, as well as merchants who sell the clothes and tools of the Healer trade. Many of the rooms are accessible only to those who have proved their skills by passing various of the Healer Circle Tests. Glory's test arena is also found within the Temple.